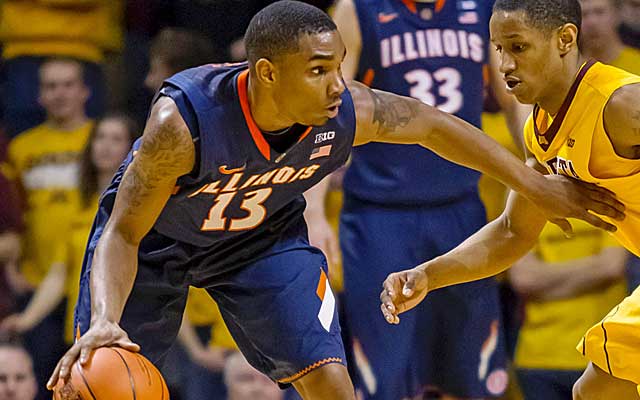 Illinois point guard Tracy Abrams will miss the 2015-16 season after suffering a torn left Achilles tendon during Monday's practice, the school announced Tuesday.Abrams also missed all of last season with a torn ACL.
"First of all, my heart goes out to Tracy," said Illinois coach John Groce. "He went through so much the last 10 months fighting back from a torn ACL to return to the court this summer in preparation for the upcoming season. So this is obviously a very difficult time for him right now. But … Tracy has the heart of a champion, and I know that he will handle this latest setback with the same courage and resolve in making a full recovery."
Abrams started 19 games as a freshman in 2011-12, then averaged 10.6 points and 3.5 assists as a sophomore, then 10.7 points and 3.2 assists as a junior. The 6-foot-2 Chicagoan was a consensus top-75 national recruit coming out of high school. He has averaged at least 28 minutes per game in each of the past two seasons he's played with the Illini.