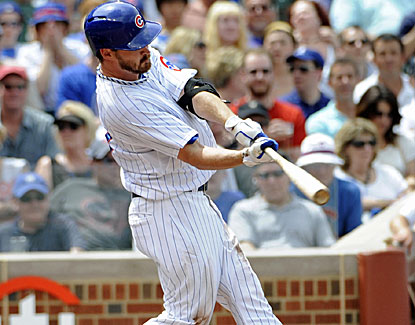 Cubs pitcher Travis Wood hits a fourth-inning grand slam off Jake Peavy and allows two runs in six innings of Chicago's win. (USATSI)
Travis Wood and the rest of the Cubs pitchers are starting to turn the ninth spot in the batting order into a productive part of the lineup.Wood hit a fourth-inning grand slam off Jake Peavy and allowed two runs in six innings to lead the way in an 8-3 victory over the White Sox at Wrigley Field on Thursday.
"Our whole staff has been hitting," Wood said, after his grand slam gave Cubs pitchers 19 RBIs for May, a National League record for one month according to the team.
"We take pride in our hitting, being able to help ourselves out, just being able to handle the bat.
"That way we're not just a dead out."
Wood wasn't the only Cubs player hitting home runs against the White Sox on a day with the wind blowing out 24 mph.Nate Schierholtz and Luis Valbuena each hit their sixth home runs of the year in an 11-hit effort by the Cubs offense, keying a fourth straight win overall and third consecutive convincing victory over their crosstown rivals.However, it was Wood (5-3) who broke open the game with his fifth career home run and second this year in the fourth inning with the Cubs leading 2-1.
"Woody can flat-out hit," Cubs manager Dale Sveum said. "He hits any fastball. They've (pitchers hitting) all been a big key to these wins.They're not just getting a single and driving a run in. They're getting two-run doubles and home runs, and we're able to put games away."
Welington Castillo and Valbuena started the fourth inning with singles and Jake Peavy hit Darwin Barney before Wood's grand slam on a 2-1 pitch. It was the first grand slam by a Cubs pitcher since Jason Marquis hit one Sept. 22, 2008, in New York against the Mets and first by a Cubs pitcher in Wrigley Field since Burt Hooton hit one Sept. 16, 1972, against the New York Mets.
"I don't like it," Cubs first baseman Anthony Rizzo joking about Cubs pitchers driving in 19 runs in May. "It's embarrassing all of us (position players)."Rizzo added: "It's great. It's unbelievable."
The last time any team's pitching staff had more than the Cubs' total of 19 runs batted in for a month was 1940 when the Detroit Tigers had a month with 20.Peavy (6-3) allowed six earned runs and eight hits in four innings. He also gave up four straight hits in the second inning for two runs that put the Cubs ahead for good as they went on to clinch this year's Crosstown Cup – the first time they've won the series since 2007.It was Peavy's worst start since giving up six runs April 9 at Washington in 5 1/3 innings.
"I think man for man everybody in here will tell you we got outplayed," Peavy said. "We didn't play with the intensity we need to play with. We didn't make plays. We didn't make pitches. We didn't get hits.We played, just not good ball baseball."
With two outs in the second, Valbuena doubled, Barney singled him home, Wood singled and David DeJesus singled in Barney for a 2-0 Cubs lead.Schierholtz homered leading off the fifth against reliever Nate Jones for a 7-1 lead and Valbuena hit a leadoff homer off Brian Omogrosso in the eighth.
"We came out this series, we struck the ball well, played great defense and the pitching has been outstanding," Wood said. "We played just great all-around baseball."
Paul Konerko drove in the first two White Sox runs, one with a third-inning, two-out single and the other on a double in the sixth after Alex Rios had doubled. Alejandro De Aza drove in the final run with a ninth-inning single.The White Sox came into the series at .500 (24-24) for the first time since April 8 after winning five of six games.
"Anytime you have three games like this at any point it's discouraging," White Sox manager Robin Ventura said. "You know, again, you've got to regroup and go.We've show that we can play a lot better than this and we're going to have to prove it again."
NOTES—The Cubs called up right-hander Zach Putnam from Triple-A Iowa and sent down right-hander Alex Burnett, a former Baltimore pitcher whom they signed off waivers Monday. Putnam had one inning of scoreless relief….A day after hitting three home runs in one game, Cubs catcher Dioner Navarro was back on the bench with starting catcher Welington Castillo in the lineup….The Cubs came into the game with the third-most errors in the NL (39) and the White Sox with the most in the AL (35), and both teams committed errors in the first inning.