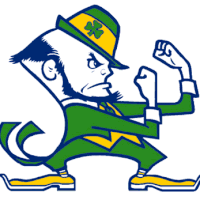 SOUTH BEND—Duke coach David Cutcliffe need not have worried about AJ Reed's confidence.After the freshman missed his first three college field goal attempts, Cutcliffe talked this week about being concerned about Reed's body language after his miss against Northwestern last week. He opted against trying for a field goal with the score tied at 28 early in the fourth quarter, explaining afterward he didn't think a field goal would be enough.But fourth-and-goal with the ball on the 1-yard line, Notre Dame (1-3) with no timeouts and 1:27 on the clock, he said he didn't hesitate to turn to Reed. The result was a 38-35 upset of Notre Dame on Saturday.
"That unit there, they believe in him and he's got a lot of talent. I know when it came down there at the end – the field goal – there was no doubt in my mind he was going to make it," he said.
Reed said he knew his teammates were behind him.
"They were all telling me that they had my back and that they knew I was going to get it done for them," he said.
The kick made for a devastating second straight home loss for Notre Dame, which started the season ranked No. 10 with hopes of vying for a playoff spot. Coach Brian Kelly said afterward that nearly every position will be up for grabs and said he might consider playing quarterback Brandon Wimbush, who he had hoped to redshirt.
"I told our guys essentially that we're going in the wrong direction. We're not going to continue to go in this direction. We'll have to re-evaluate what we're doing, who we're doing it with, and how we're doing it," he said.
Daniel Jones threw for three touchdowns, including a 64-yard scoring pass to Anthony Nash midway through the fourth quarter to tie the score as Duke (2-2) beat the Irish for just the second time in five tries. The first win was in their first meeting, a 9-7 victory in Durham, North Carolina, in 1958. Jones was 24 of 32 passing for 290 yards and Duke rushed for 208 yards.
"I think we were, as a team, executing at such a high level. We weren't perfect by any stretch, but overall, we were executing more consistently than we had been," Jones said.
Shaun Wilson returned a kickoff 96 yards for a score to spark the Blue Devils after Notre Dame, which had struggled with big deficits in two earlier losses , jumped to a 14-0 lead.The Irish defense continued to struggle, giving up 30 or more points against Power Five teams for the seventh time in their last nine games. The student section chanted "Fire VanGorder," referring to defensive coordinator Brian VanGorder.
Kelly, who talked about his frustration with the play of the defense a week earlier, said the coaching of the defense is one of the few areas he wasn't disappointed in. He said Duke was grittier and more determined than the Irish.The Blue Devils defense continued to struggle to stop big plays, allowing 10 passes of 20 yards or more. But they came up with the big plays when they had to, forcing three turnovers while allowing one.The Irish came out with the sense of urgency Kelly preached all week after falling behind by double digits in losses to Texas and Michigan State, jumping to a 14-0 lead. But they couldn't keep the momentum going, and struggled to do anything consistently well.The Irish travel to East Rutherford, New Jersey, to play Syracuse, the first of three neutral-site games they will play this season.