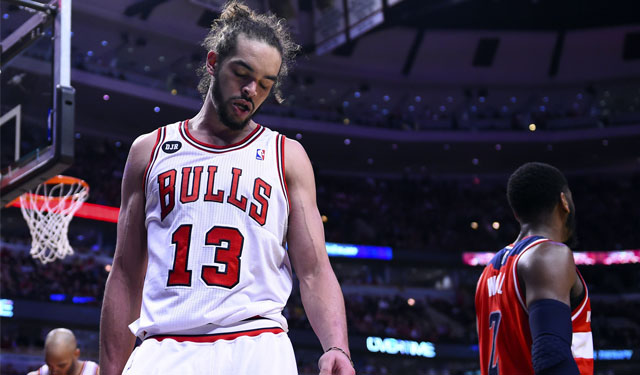 NEW YORK—The NBA announced the All-Defensive First and Second teams on Monday with 2013-14 NBA Defensive Player of the Year Joakim Noah receiving the most first-place votes. The  Bulls' center received 105 first-place votes (worth two points) and 13 second-place votes (worth one point) for a league leading 223 points. Also joining him on the All-Defense First team was Paul George of the Indiana Pacers, Andre Iguodala of the Golden State Warriors, Chris Paul of the Los Angeles Clippers, and Serge Ibaka of the Okahoma City Thunder.
The All-Defensive Second team was composed of Jimmy Butler of the Bulls, Roy Hibbert from the Pacers, LeBron James of the Miami Heat, Kawhi Leonard of the San Antonio Spurs, and Patrick Beverley of the Houston Rockets.
This was Noah's third All-Defensive team and second straight appearance on the All-Defensive First team. Iguodala made the First team for the first time in his career, as did George. This was Ibaka's third time on the First team and Paul's fourth time. After five consecutive years of making the All-Defensive First team, LeBron made the Second team for just his first time.
The Bulls Jimmy Butler and Kirk Hinrich also received votes.