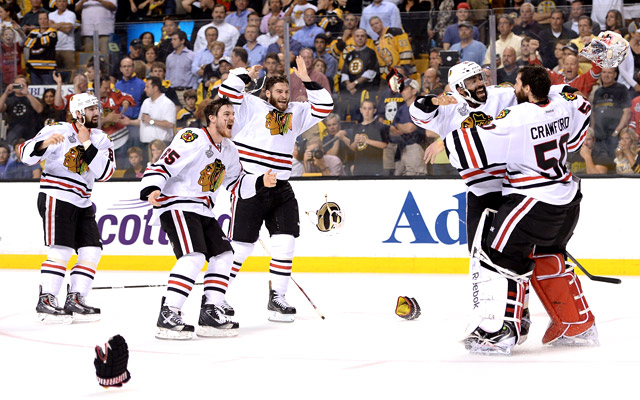 BOSTON—So much for the Presidents' Trophy curse.The Blackhawks ended one of the most exciting — and dramatic — Stanley Cup Final series in recent memory in what was perhaps the most fitting way possible: an improbable come-from-behind win in which they scored two goals in 17 seconds to earn a 3-2 win and give the franchise its second championship in four years.The Blackhawks were two minutes away from facing a winner-take-all Game 7 in the United Center. In less than a minute they managed to turn defeat into glory.It wasn't their best perfomance of the playoffs, and they had to sustain a huge push from the Bruins in the first period, but in games like this you just have to throw style points out the window. The Blackhawks did what a champion is supposed to do and found a way to get it done when it mattered most.And it was something they did more than once this postseason.This is a team that had to overcome a 3-1 series deficit in the second round against Detroit and win three straight must-win games. Then they had to knock out last year's champions — the Los Angeles Kings, who looked to be even better this year — in the Western Conference finals.The Blackhawks had to break through Boston's Tuukka Rask, the hottest goalie in the NHL.And it was everybody coming through.The duo of Patrick Kane and Jonathan Toews, criticized earlier in the postseason for not scoring enough and being the focal point of a struggling power play unit, came together on Chicago's top line and were the driving force behind their championship run.Kane, who already has a cup-clinching goal on his postseason résumé (and now two Stanley Cup rings), can add a Conn Smythe Trophy to his collection.
"I told the team there was going to be a lot of ups and downs in this game," Kane said. "It was just like Game 6 in Philly last time. There were so many ups and downs in that game. I didn't think there would be this many. We were down 1-0. We tied it 1-1. Then they went up and just it looked like we were going back to Chicago for Game 7. Then [Bryan] Bickell gets a goal for us, then Dave [Bolland] scored, you can't write that script."
No, you couldn't. Actually, you couldn't have scripted any of this series. Three overtime games. A wild Game 4 that saw the Blackhawks win a thrilling 6-5 overtime game that was perhaps one of the most exciting Stanley Cup Final games ever … that is, until the final two minutes of Monday's game happened.And then there was Corey Crawford, the much maligned goaltender with the supposed shaky glove hand.Crawford, perhaps the biggest question mark on the team heading into the postseason and the focal point of one of the biggest storylines in the Final (the aforementioned glove hand), was stellar in Games 5 and 6. Heck, had it not been for Crawford's play in the first period on Monday it's possible that Boston could have put this one away early and completely changed the course of the game, extending the series to a seventh game.
"He was huge for us," Blackhawks defenseman Michal Rozsival said. "Every time we needed a big save he was there for us."
In the end, this Hawks team was simply the best team in the NHL. They proved over 48 games during the regular season when they finished with the best record in hockey. And they proved it in the Stanley Cup Playoffs.They were deeper than everybody else. Had more skill than everybody else. And they put it all together at the exact right moments.That's what a champion does.