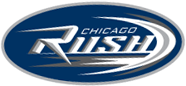 SAN JOSE—The trend of the Chicago Rush never winning a regular season game in San Jose continues. Despite never trailing in regulation, the Rush (6-4) forfeited the lead when it mattered most and lost 84-77 to the San Jose SaberCats (8-3) in overtime in front of 9,036 fans at the HP Pavilion. This one was too much loss the loss at San Antonio 4 weeks ago.
With one minute left in the fourth quarter and the SaberCats driving, Mark Grieb threw a pass towards the end zone that was intercepted by Rush defensive back Brian Lainhart. Up eight points at the time, Chicago appeared to need only a few positive plays to walk out of San Jose with a victory. However, a negative rushing play by Michna would stop the clock per AFL rules and Luke Drone's fourth down fumble of a snap to turn the ball over on downs with 26 seconds left allowed San Jose one last opportunity.
Giving SaberCats veteran quarterback Mark Grieb another chance proved to be devastating as he hit WR Samora Goodson (10 catches, 120 yards, 3 TD) for an 11-yard touchdown. Still needing the two-point conversion, Grieb surveyed to find reliable James Roe (7 catches, 108 yards, 3 TD) to notch the game at 70.
A heroic 47-yard touchdown bomb from Russ Michna to Jared Perry deflated the San Jose crowd with 20 seconds remaining putting the Rush up 77-70, but Grieb once again worked his magic to find Huey Whittaker for a touchdown with 10 seconds left to force overtime.
With the Rush deciding to defer in overtime, they began on defense and couldn't stop the SaberCats from scoring.Former Rush Fullback Johnie Kirton (28 total yards) tortured his former team for three touchdown runs on the night, the third of which gave San Jose their first lead of the night five quarters into the contest.
A 25-yard kickoff return by Reggie Gray, along with a five-yard penalty by San Jose gave the Rush the ball at the SaberCats 21-yard line. Great field position wouldn't matter though, as Vince Hill stepped in front of a pass intended for Jared Perry and intercepted Michna in the end zone to seal the SaberCats eighth win of the year.
"On the road you have to zero in on a mentality that the game is never over. We had too many breakdowns after the interception (by Lainhart) with a minute to play and it allowed (San Jose) to take advantage," stated Rush Head Coach Bob McMillen.
An overtime interception was the first mistake by Michna all night, as he was sharp to the tune of 351 yards and 8 touchdown passes. Reaping the benefits of his play were wide receivers Gray (9 catches, 131 yards, 4 total TD), Perry (8 catches, 137 yards, 3 TD) and Terrance Turner (5 catches, 49 yards, 1 TD). Even offensive lineman T.J. Watkins rolled his 330 pounds down the field for an 18-yard screen pass score from the hand of Michna.
A secondary without Vic Hall had its share of ups and downs. Newcomer Brandon Brinkley led the Rush with 8 tackles and numerous pass breakups on way to defensive player of the game, but was responsible for giving up the 28-yard touchdown pass to Huey Whittaker (5 catches, 91 yards, 3 TD) that forced overtime.
Another Rush newcomer, defensive lineman Cedric McKinley tallied one sack and a blocked extra point, but committed two penalties that extended San Jose drives.
Semaj Moody impacted the game by recovering a second quarter kickoff for a touchdown giving the Rush a 14-point lead, as well as securing a fourth quarter onside kick attempt by the SaberCats when the Rush was only leading by a point.
"It's disappointing that we couldn't put them away," mentioned Rush QB Russ Michna.
Three separate times in the game the Rush put up 14-point leads. Nonetheless, each time San Jose answered back to chop it back to within one score.
San Jose quarterback Mark Grieb totaled the most ever passing touchdowns (9) and yards (417) an opposing passer has put up against the Rush in their history. The 84 points by the SaberCats are the most a Rush team has ever given up.
New kicker Joe Houston tied the franchise record with 11 extra points, but missed two field goals including the 54-yard potential game winner with two seconds left.
The Rush's fourth loss of the season holds importance as they have now lost to San Antonio (8-3), Arizona (8-3) and San Jose (8-3). Those three teams are all ahead of the Rush in playoff positioning and it forces a pivotal matchup when they return to Allstate Arena June 3rd at 3pm to take on the Spokane Shock (6-4).
Russell Athletic Offensive Player of the Game – CHI Reggie Gray
Riddell Defensive Player of the Game – CHI Brandon Brinkley
JLS Ironman of the Game – SJ Huey Whittaker
AFL Playmaker of the Game – SJ James Roe
Cutters Catch of the Game – SJ Huey Whittaker's 28-yard TD catch to tie the game with 10 seconds left
Spalding Highlight of the Game – SJ James Roe third quarter touchdown catch to pass Barry Wagner for fourth all-time in AFL history
National Guard MVP – CHI Russ Michna
COSTLY FOURTH QUARTER MISTAKES LEAD TO OVERTIME LOSS IN SAN JOSE