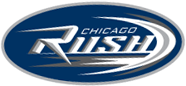 The word came out this morning that former Chicago Rush FB Johnie Kirton has passed away at age 26.
This is a complete shocker! I did play by play of the Rush game in San Jose Saturday night, Johnie looked like the same hard nosed RB we saw with the Rush last year. He was hard to tackle, and scored three key touchdowns against his former team. Then to hear this is awful and sad news.
We have learned that after attending a Sabercats team function Sunday, he went home, did not show up at a practice today,and they found his body in his apartment. Foul play has been ruled out.
LES