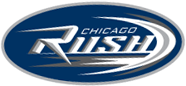 Wiping away the first ten minutes of the game, the Rush put together an impressive fifty minutes of football Thursday night against the Orlando Predators. The Rush went on to win over the Predators 51-49 after a hard fought battle in front of 6,148 fans at the Allstate Arena. An eventful first ten minutes included Predator DB Simeon Castille recovering an opening kickoff fumble by Reggie Gray for a 7-0 lead. The momentum would continue to swing the Predators way as they would up-end four Rush plays inside the four-yard line on the following drive as well as have DB Travis Coleman grab his 19th career AFL interception a possession later which led to a 14-0 Predator advantage.However, the Predators ten minutes of fury was washed away and the Rush offensive line gained momentum as they steadied the pass protection and allowed QB Russ Michna (19-35, 251 yards, 5 TD) to put together eight consecutive scoring drives. The fork in the game came with four seconds remaining in the first half, as DB/KR Kelvin Rodgers would race from his own goal line into the Rush locker room for a 50-yard kickoff return for a touchdown that put the Rush up 34-28 at half. His forced fumble on WR Nate Forse (recovered by LB Kelvin Morris) early in the third quarter spawned another Reggie Gray (10 receptions, 104 yards, 5 TD) touchdown for the largest lead of the night.When Gray was asked about his relationship with Michna he shared, "Our chemistry is second to none. I feel very fortunate to play this game and catch passes from Russ (Michna)."
Despite opening up a 13-point third quarter lead, the Predators continued to be pesky throughout the rest of the game. Orlando wide receivers Nate Forse, T.T. Toliver and Dwayne Eley, Jr. all caught at least one touchdown, while the Predator defense forced the Rush to grind out every scoring drive.
"(Orlando's) front three were on us all night. We had no idea what kind of defense they would throw at us. I feel that we're very lucky to get these guys early in the season," said Rush Head Coach Bob McMillen.
In spite of some long touchdown passes given up by the Rush secondary, the defense front five was relentless all night long, forcing Predator QB Collin Drafts to alter his throwing windows and move around in the pocket to complete passes.Defensive tackle Derek Walker (3 TCK, 1 Sack, 1 INT) helped turn the initial momentum tide with his first quarter interception that led to the first Rush score.With the win, the Rush improve to 2-0 on the season and look ahead to their first game on the road next week in Iowa.
Russell Athletic Offensive Player of the Game – CHI Reggie Gray
Riddell Defensive Player of the Game – CHI Derek Walker
JLS Ironman of the Game – ORL Dwayne Eley, Jr.
AFL Playmaker of the Game – CHI Kelvin Rodgers
Cutters Catch of the Game – CHI Reggie Gray's 5th TD reception
Spalding Highlight of the Game – CHI Kelvin Rodger's kick-off return TD
National Guard MVP – CHI Reggie Gray