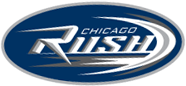 MOLINE—The Chicago Rush dominated in all facets of the team's preseason game against the Iowa Barnstormers at the iWireless Center Saturday night, defeating former Coach Mike Honhensee's Iowa team 43-22.
The Rush defense kick started the 2012 season with a sack and a forced fumble on the opening play of the game by DL Lindsay Witten. DL Alex Daniels recovered the ball for the first touchdown of the game. Iowa answered with a touchdown reception by Rush foe, WR Jesse Schmidt from former Rush QB JJ Raterink. The Rush defense came up with another big play as Rush DB Vic Hall blocked a pass from Raterink forcing Iowa to attempt a 36-yard field goal. The missed attempt was recovered by WR Reggie Gray to end the first quarter.
The Rush defense held the Barnstormers to a scoreless second quarter, while Rush kicker Mike Salerno completed a pair of field goals. DB Brandon Freeman snagged the first Rush interception of the game to close the first half with the Rush leading 26-6.
The two teams exchanged field goals to open the second half including a 47-yard field goal by Barnstormers kicker George Pierson. Rush FB JJ Payne contributed on offense with a 10-yard touchdown reception. Payne led the offense with two touchdowns on the night.
The Barnstormers' WR Chris Matthews had a late fourth quarter touchdown reception. However, the Rush defense held strong and closed out the game before the Barnstormers could score again.
Russ Michna earlier hit Gray for a touchdown. Few starters on either team played in the second half.
NOTES—The Rush start the season on Saturday night March 10 vs Tampa Bay at Allstate Arena….WR Troy McBroom,who was recently signed,did not pass his physical and was released.