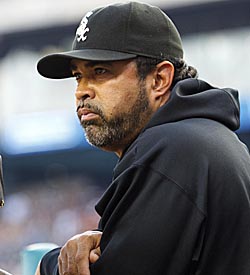 After eight VERY interesting years.the White Sox have agreed to Ozzie Guillen's request to be released from his contract, allowing him to pursue other opportunities.
"We certainly cannot thank Ozzie enough for all he has done during his eight seasons as manager of the Chicago White Sox, highlighted by an unforgettable 2005 World Series championship," said Jerry Reinsdorf, White Sox chairman.  "I personally appreciate everything he has done for this organization, our fans and the city of Chicago.  We shared the greatest moments together and wish him nothing but future success in baseball and in life."
Guillen, who led the White Sox to a 78-82 mark in 2011 and a 678-617 record during his eight seasons (2004-11) as manager, will not be in uniform with the White Sox for the remaining two games of the 2011 season. The White Sox retain rights to compensation should Guillen accept a managerial position with another major league team in 2012.
Guillen was traded to the Sox by San Diego in 1985 for 1983 Cy Young winner Lamar Hoyt and was the American League Rookie of the Year. He stayed with the Sox through 1997,joined the Atlanta Braves,then worked as a Coach for Bobby Cox before joining the Florida Marlins where he was a Coach on the 2003 World Champs,prior to rejoining the Sox.
LES